Tent Rentals
Ultimate Bash Party Rental can provide you with a variety of tents and sizes to fit your needs.
To help determine the ideal tent and receive an immediate quote, simply answer the following questions and use our reservations page to contact one of our experts, we will gladly assist you
What is the maximum number of people that will be u er the tent at any one time?
Will you need accessories such as Pole curtains, Lighting. Heating, etc.
Will they be seated at tables (formal)
or will they be standing and/or require theatre style seating casual?
Other Things to Consider
Once you have chosen your Ideal tent size there are some additional factors that may influence your decision.
You may want to consider the following Issues:
The surface the tent is to be installed on. Certain surfaces such as pavement, concrete etc.
May require extra or custom equipment which my add to the cost.
The quantity of tents required. Depending on the circumstance,
we may be able to offer discounts on multiple rentals or multiple quantities of tents,
· Are there any custom requirements that have to be addressed?
For example: Installation over trees, patios, or eaves troughs all require additional work
· Rental costs are for one day. However should you require the tent for longer,
we would be happy to discus long-term discounts for other Important information, refer to our terms & Conditions.

Prices include standard delivery within local delivery zone.
Standard delivery is no further than 10 feet from truck and or roadway
Additional fees will be charged past that.
Ultimate bash is not responsible for tree, shrub or grass damage causes by delivery or installation.
Ultimate bash is not responsible for damages to underground sprinkler systems, water, gas, or electrical lines.
Tents are meant to be a temporary shelter and must be evacuated under extreme weather conditions.
Tents are made of water resistant materials but they are not guaranteed water proof.
Prices quoted are for a weekend or 3-day period unless otherwise noted.
Payment policy: a fifty percent deposit is required at time of booking. Final payment is due at delivery.
Cancellation policy: full refund of deposit with cancellation 10 days prior to event.
Fifty percent return of deposit if cancellation is 3 days prior to event.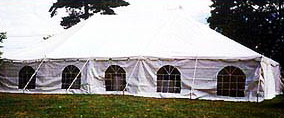 Make a Reservation
We can supply tables and chairs for your occasion.